Circus Conference
New Zealand's first National Circus Conference
Two days of international and national keynote speakers,
Master classes, forums, and performances
Postponed until 2015.
Brought to you by Awkward Productions.
We are looking at the following Conference Topics:
State of the Art – What is your circus reality? Who do you work with, who's your community, what is your next project, what do you need from the industry? Where do you see circus in New Zealand heading?
Training - With the closure of Circo Arts, where are New Zealand artists able to train? What is happening to the industry without Circo Arts. What type of training does New Zealand want? Where? What facilities do you need to train, rehearse, or produce? Is our industry safe in New
Zealand? What's working, what's not? Where are the gaps in New Zealand training and how do we fill them?
Funding and Producing - What are your funding and production needs for your project, facility, or programme? What are your ideal outcomes, your realistic outcomes, and how do they differ? Which funding bodies and production facilities do you need to come to the table? If you
are part of a national, regional, or community funding scheme what would you like to see from circus in New Zealand? How would you support it?
In order to design this Conference around the needs of the industry, we invite you to offer your
suggestions, proposals, and ideas. This is your chance to share, discuss and observe the state of
circus in New Zealand, ensuring growth and innovation in the industry.
Please contact Deborah Pope for further information.
We hope to hear from you soon!
Deborah Pope – Director
Derek Simpson – Producer
Jillian Davey - Administrator
Grimace - Gothic & Fairytale Circus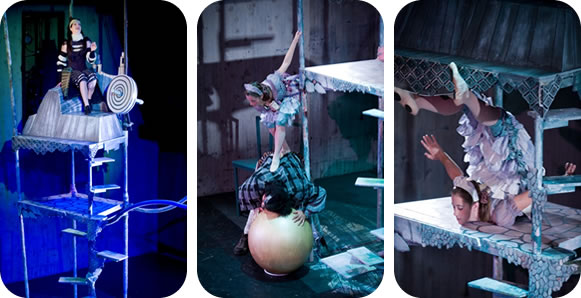 "I concede that Deborah Pope and her Awkward Company have aced the Grimms and rolled the Dahl".

John Smythe,Theatreview2010

Grimace ...is a fantastical world where Miss Muffet is chasing the giant and Jack is scared of the goose....just what you'd expect of this gothic fairytale circus where much loved tales are turned on their head literally......
Grimace was commissioned for the Capital E National Children's Festival , March 2011. It ran for 20 performances with sold out public performances and 90% houses with a school audience of 5-15yrs.

"There is nothing scary or bad about this giant, in fact once he has sung us a lovely son who could possibly unleash a giant killer on him...." John Smythe
' To avoid a cutesy pooh ending, the performers lapse into a grumpy child state...and some interesting thoughts and ideas are exchanged...good call.'..John Smythe
Touring 2012 medium scale theatre/ auditorium/touring party 8